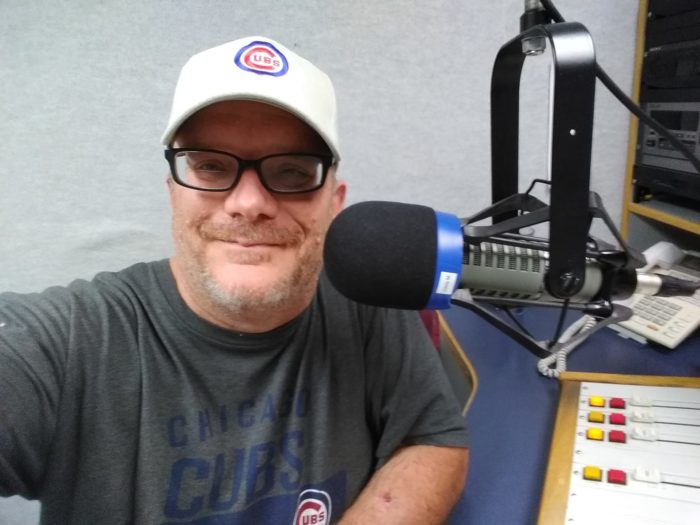 Chris McIntyre
I've loved radio ever since I was a young kid. I grew up in Monmouth, Illinois listening to 'Spike at the Mic' on the old KIIK 104 and Larry Lujack on WLS and they made radio sound so much fun. My favorite TV show was WKRP in Cinncinnati. I got my first job in radio while still in high school and have been doing it ever since. I can't imagine myself doing anything else. I love it just as much today as I did when I first started. And like the old song goes "packin' and unpackin' town to town up and down the dial" my career has taken me from Monmouth, Illinois, to Galesburg, Illinois to South Lake Tahoe, California to Peoria, Illinois and now here.
Most of you know about my family, my wonderful wife and two great kids and grandson. But here's a few things about me that you may or may not know:
I once flew a plane. No I'm not a pilot, but during an air show one year I decided to take a plane ride in a small single engine plane. While in the air, the pilot asked me if I'd like to take over the controls. I took over the controls and flew for about 10 minutes before the took over to land it. It was so cool!
I like to cook. I couldn't open a restaurant because there's not a lot that I can cook, but I do enjoy it. My specialties are lasagna and meatloaf. There's usually not a lot left over on the nights I make those dishes.
I'm a die-hard Cubs fan. I'm a fan of the Bears, Bulls and Blackhawks, but the Chicago Cubs are by far my favorite team. One time, while at Wrigley field, I was chosen to particiapate in a contest for a chance to win a duffle bag full of Cubs goodies. Needless to say, I didn't win. (If I would have went with my gut instinct I would have.) But at least I got to hear my voice over the ballpark's PA system. And at the same game Harry Carrey waved to me and said hello. And now I can celebrate them as the 2016 World Series Champions!
Ministry. My faith is very important to me. Everything that I have, everything that I am is because of what God has given to me. I'm thankful that He has allowed me to do a job that I enjoy.